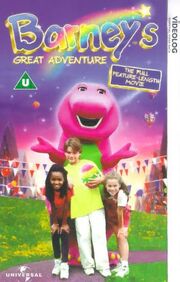 Barney's Great Adventure is a UK VHS release by Universal on 11th October 1999 and it got re-released by Universal on 7th October 2002.
Description
Edit
Television star Barney - the six-foot, talking, furry, purple dinosaur - returns for his first big screen outing. When seven-year-old Abby is away on holiday with her older brother, Cody, she uses her imagination to bring her toy dinosaur, Barney, to life. Abby, Cody, Barney and their friend Marcella end up going on an adventure when a multi-coloured egg lands in the nearby barn.
Trailers and info
Edit
1999 Re-release
Edit
Microsoft Actimates Interactive Barney 1998 (UK TV Advert)
Barney Videos UK VHS Promo (Available at all Good Video Stories Now)
2002 Re-release
Edit
Community content is available under
CC-BY-SA
unless otherwise noted.